Yuanliang(Leon) Liu
Founder and advocate of Open Source Learning. Designer of Knowledge Engine. Software Architect.
Leon has been focused on learning/education for more than 15 years. Making real life learning the mainstream learning/education is what he has been working passionately on. During his Ph.D. study in America, he had a thorough study of what academic and industry were working on in the elearning fields, got disappointed, and turned to the grassroots alternative education efforts in America, where he had learned tremendously from the practical experiences that alternative education in America has accumulated for decades.
Leon worked as Chief Internet Learning Architect at Huawei Inc., exploring enterprise learning within a company.
Leon fell in love at first sight with software programming when in his freshmen year in college. To him, software programming is a bridge between human world and physical world, and through software programming, human beings can finally realize the great dreams people have had for thousands of years.
Through his long time of hard work, Leon is determined to combine the best practices and experiences of American grassroots alternative education with the technology of software and internet, to make the self-learning available to everyone.
You can read more about Leon here.
Steven Cummings
Software Architect
Steven has been involved with the architect design and technology choices. He constantly brainstorms with Leon on various ideas. He is currently on the mission of refactoring the knowledge engine into an open source django app. Steven also shares some website maintenance responsibility.
Steven is currently a software engineer at Amazon.
@estebistec
Alex Yu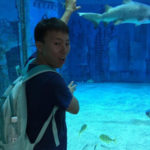 Passionate learner on the internet, believing every individual can build up his/her own learning environment; self-directed learner and nature lover, with diverse interests and trying to live his life like a child full of curiosities and trying to help others to live so as well; currently a product manager at NetEase, hoping to create internet product that really impact people's lives.
Alex has a master degree in Education Technology. He worked with Leon together in Social Learn Lab for a few years in the past. At OSL, he is in charge of introducing Self-Directed Education to people in China and he is involved in organization management of OSL.
Haoyu Chen
Haoyu is in charge of spreading the ideas, especially among college students. He gets
college students experimenting with learning using this notebook, through self-learning, peer learning in a learning group or by instruction from a teacher who has rich learning experiences in the domain.
Haoyu is currently a software engineer working for IXL Learning Inc.
How to join?
Send us an email: sys @ opensourcelearning.org  (please remove the spaces) and tell us what you do, how you are interested and what or how you want to contribute.
Thank you for your interest in us! Together let us bring out the true face of learning!